Multimedia
Movies Server embedded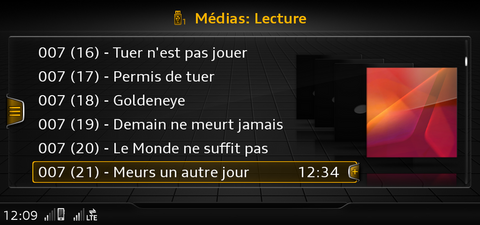 Who has never dreamed of having always available a server of movies, photos, music or documents with itself?

A hard drive with 1 TB capacity allows you to store your movies, and you can access from a Tablet iPad, Samsung, iPhone and iPod Touch phone.

Enjoy your content wherever you are, without the Web and wireless.
Watch your multimedia content and files on tablets, smartphones, Mac and PC via a wireless connection.
Take more than 500 movies or thousands of songs, photos and documents.
Seagate Media free application for iPad ®, iPhone ®, Kindle Fire and Android ® devices
Watch simultaneously up to 3 different HD films on three devices.
Up to 10 hours of battery life *.
Place:
Pedestrian street
Car
Bus
Aircraft
Boat
Train
House
Chalet
Forest
Etc...
Price:
299 Frs. (No content)
Additional services
Transfer of multimedia content
Commissioning
Convert your Bluray discs & DVD (optimization in HD format)
ATTENTION: Prices on request


Headrest screens
Add to your vehicle a cinema room

At the wheel of your vehicle, you enjoy a driving pleasure and unbeatable comfort. Thanks to the multimedia system is joy, this comfort can become total both for your passengers, your children, for example, for you even...

Finished questions "it is still far? Yet how long? '. " With its two screens, the system multimedia does joy offers the opportunity to travel while watching the DVD of their choice and to use their console games (optional). Together or separately. Without bothering you. Good escape at all!
The system does joy uses the latest in multimedia technology to enjoy your rear passengers a unique moment of relaxation, in the comfort of your vehicle:
2 Alpine screens housed in the headrest forward and offering a superior image quality
DVD player: compatible with most standards of image and sound (CD, CD - R, CD - RW, CD-DA, MP3, DVD, DVD-R, DVD - RW, VCD, JPEG, DivX, MP4)
2 infrared headphones wireless, with batteries (AAA standard batteries) dual channel
Remote control, delivered with batteries (idem helmets)

Price:
2'690 Frs. (Installation included) - WARNING: Not available


Download PDF file


Screen ceiling
Add to your vehicle a cinema room

At the wheel of your vehicle, you enjoy a driving pleasure and unbeatable comfort. Thanks to the multimedia system is joy, this comfort can become total both for your passengers, your children, for example, for you even...

Finished questions "it is still far? Yet how long? '. " With ceiling-mounted screen, the system multimedia does joy offers the opportunity to travel while watching the DVD of their choice and to use their console games (optional). Without bothering you. Good escape at all!
The system does joy uses the latest in multimedia technology to enjoy your rear passengers a unique moment of relaxation, in the comfort of your vehicle:
Alpine ceiling screen offering upper imaging quality
DVD zone 2 player integrated into the ceiling screen: compatible with most standards of image and sound (CD, CD - R, CD - RW, CD-DA, MP3, DVD, DVD-R, DVD - RW, DivX, VCD, JPEG)
2 infrared headphones wireless, with batteries (standard AAA batteries)
Remote control, delivered with batteries (idem helmets)

Price:
1'790 Frs. (Installation included) - WARNING: Not available


Download PDF file